New Album
THE DISAPPOINTED CHAIR – BY BIG EYES FAMILY
Released
13th November 2020
, limited vinyl and digital on
Sonido Polifonico
The album is released in two physical editions:
Special edition of 100 copies of vinyl LP with a bonus lathe-cut 7inch, featuring remixes by Pefkin and Dean Honer, plus a screenprint, badges and a ceramic token.

Standard heavyweight vinyl LP edition (150 copies).
Both editions come with a download code. The album is available directly from the
Sonido Polifonico
website, and a select few record shops.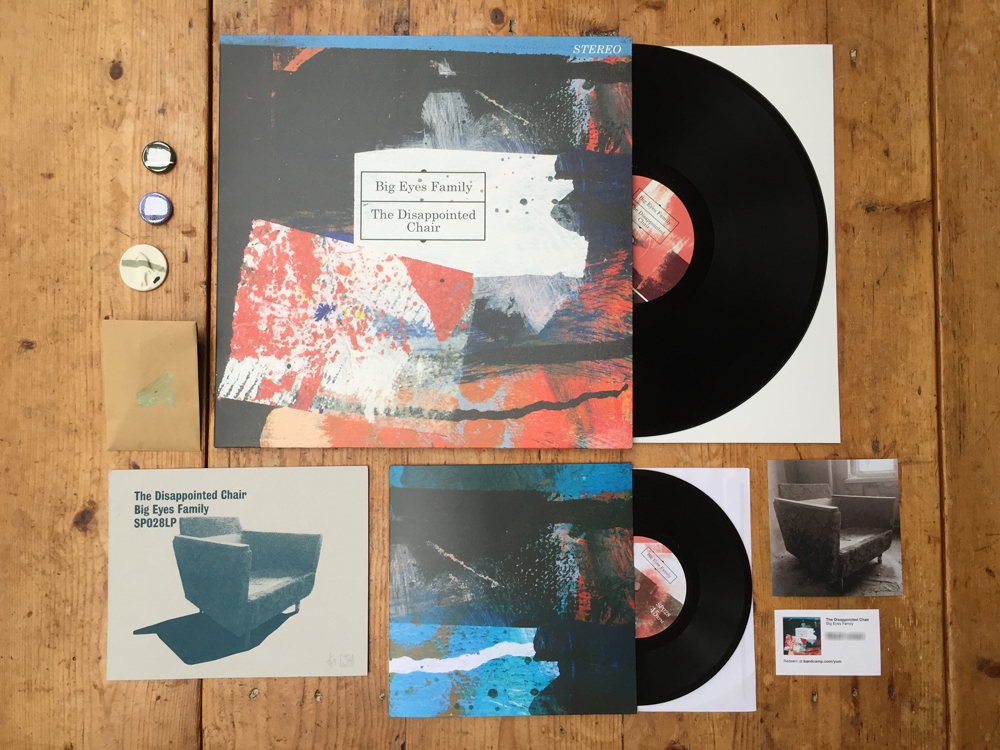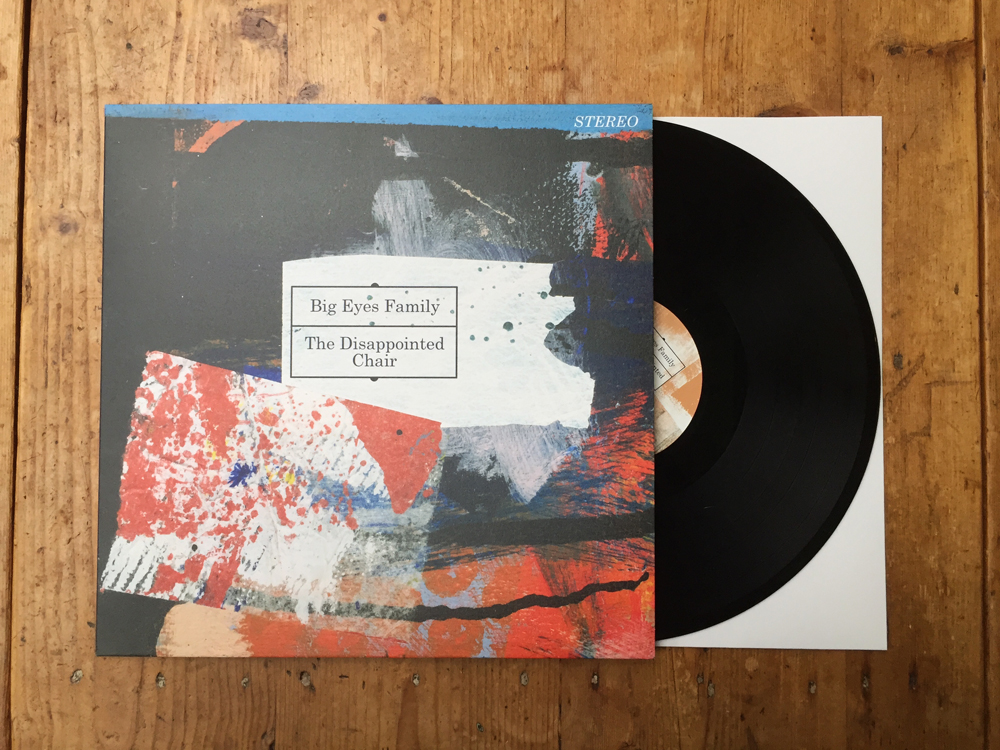 The album will also be available digitally from our bandcamp page:
thebigeyesfamilyplayers.bandcamp.com
Before I explain more about the new album, I thought you might like to see two great videos that have been made for us, by film-maker
Lee Mondo
and folk-musician and animator
Marry Waterson
.

We've changed our name. It isn't radical, but with the nature of how the band of how it has been for the last eight or so years (more of a group, less of a collaborative project), we've decided to shorten it to 'Big Eyes Family'. I hope that is ok with you.
Four years have whizzed by since our last record (
Oh!, 2016
), and here is the follow-up. In a way it feels like a continuation of the same psychedelic pop project, except perhaps that the songs have become a little more odd and the sound a little more weighted towards synths/organs than guitars.
Neal Heppleston
has joined on double bass/electric bass (replacing Sharron Kraus) bringing with him some off-kilter sounds. Aside from that, the family are the same.
Heather Ditch
is the resident singer and wordsmith,
Guy Whittaker
a most creative drummer,
Jim Street
our organ/synth aficionado, and I play guitar and do a few other things.
We recorded the album in Sheffield at Three Galleys Studio by Jim, and at The Bowling Green with Dean Honer (of I Monster/ Eccentronic Research Council/ Moonlandingz/ International Teachers Of Pop). We were also very fortunate to again get Dean to produce the album. In the process of recording and producing he really has become a sixth member of the band, and we really enjoyed working with him.
There are ten songs. This time, the themes vary from the fate of a satellite orbiting Saturn (
Cassini's Regret
), Jacqueline Kennedy Onassis' cousin Edie Bouvier Beale, who features in the documentary film 'Grey Gardens' (
The Disappointed Chair
) and difficulties in connecting with people (
(Sing Me Your) Saddest Song
).
The one cover is a version of a Dusty Springfield B-Side, '
Summer Is Over
'.
The vinyl album is released in an edition of 250, on the
Sonido Polifonico
label, home to releases by Burd Ellen, Pefkin, Emma Tricca, The Left Outsides, Dean McPhee, Alasdair Roberts/James Green and more.
The image on the cover is from a painting by a very talented artist I met in 2019 called
Corrina Rothwell
.
Thanks to everyone who helped us make the album. We're very grateful for time given, sometimes for free. We think it was worth the effort. We hope you do too. Enjoy!
James Green, Big Eyes Family
Oh! Album
Released 26th February 2016, limited vinyl and digital on Home Assembly Music, distributed by Cargo.
Buy Album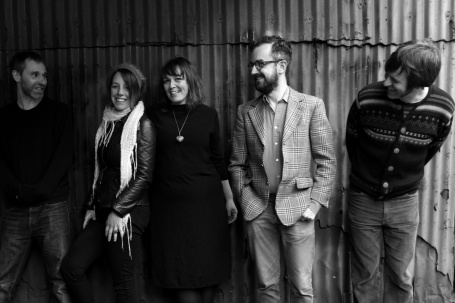 So here it is. We've been quietly beavering away on our new album for a couple of years now. After the last album ('
Folk Songs II
'), I wanted to make a change, and concentrate on creating our own music, rather than re-interpreting traditional songs. I discussed with Heather, who has slowly become our lead singer about working on songs together, myself writing the music, and her the words, and so the process of making 'Oh!' started. I looked at finding new players for the band, which I wanted to work like a live group, rather then some of the sprawling line-ups we'd had in the past, with 20 or so contributors on a typical album. I wanted us to sound like a 'unit', and work on these new songs together until they felt ready and then record them for the album. Previously Big Eyes had mostly recorded pieces first, and when it came to live work we tried to adapt them. Bit by bit, Heather and I pieced these new songs together and we found solid cohorts in
Sharron Kraus
(well known as an established folk singer/solo artist) who joined as bass guitar and singing,
Guy Whittaker
on drums (who I'd known before from the other band he plays in, the wonderful Magpies) and
James Street
, who was recommended to me as a bit of an organ-whizz. He certainly is.
Heather's lyrical subjects range from adoption gone wrong (
Pendulum
) to the London riots of 2011 (
Reeves' Lament
); from the surreal tale of Ann Boleyn stranded in a futuristic African wilderness (
Desert Queen
) to the tragic tale of Joyce Vincent (
Joyce
), who was found dead in her flat in London three years after she died, her TV set still on, partly-wrapped Christmas presents at her feet.
There is one cover on the album, '
Song For Thirza
', a little-known song by Lal Waterson; a true-story about a girl who lived with the Waterson family, rescued from the workhouse back in the 1950s.
We had now worked the songs into workable forms and started recordings with
James Barlow
at Red Cloud Studios. Now I was curious to work with a producer, since pretty much everything we had done before was self-produced. I had
Dean Honer
in my sights. He is something of a Sheffield legend, part of I Monster, Eccentronic Research Council and Moonlandingz, and someone who could potentially twist our new songs about and heighten the atmospheres in his studio, 'The Bowling Green'. Luckily he agreed, and we are more than chuffed with what he has done. He also played synth on a few tracks, and viola/bowed-saw player
Aby Vulliamy
(Bill Wells/Trembling Bells/Dark Northumbria) added some further magic.
The sleeve of the album was designed by textile artist/designer
Laura Slater
. I've admired her bold print work for years now, and figured it might work well on a record sleeve.
Sorry if it sounds like blowing my/our own trumpets, but I think this is best record Big Eyes has ever made. I feel a bit like I did when we released our first record ('Big Eyes Songs', back in 2000), except then I felt that we were creating our own 'classical music', and this time, we have created our own 'pop music' (albeit pretty strange pop music). I really hope you enjoy the album as much as we have enjoyed making it, and I want to thank all those who helped us make 'Oh!', the Players, Mr Barlow, Mr Honer, Jen Halse and all at Home Assembly Music.
James Green, The Big Eyes Family Players