New Album
'OH!' BY THE BIG EYES FAMILY PLAYERS
Released 26th February 2016, limited vinyl and digital on Home Assembly Music
distributed by Cargo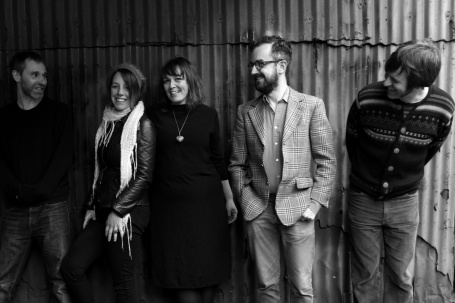 So here it is. We've been quietly beavering away on our new album for a couple of years now. After the last album ('
Folk Songs II
'), I wanted to make a change, and concentrate on creating our own music, rather than re-interpreting traditional songs. I discussed with Heather, who has slowly become our lead singer about working on songs together, myself writing the music, and her the words, and so the process of making 'Oh!' started. I looked at finding new players for the band, which I wanted to work like a live group, rather then some of the sprawling line-ups we'd had in the past, with 20 or so contributors on a typical album. I wanted us to sound like a 'unit', and work on these new songs together until they felt ready and then record them for the album. Previously Big Eyes had mostly recorded pieces first, and when it came to live work we tried to adapt them. Bit by bit, Heather and I pieced these new songs together and we found solid cohorts in
Sharron Kraus
(well known as an established folk singer/solo artist) who joined as bass guitar and singing,
Guy Whittaker
on drums (who I'd known before from the other band he plays in, the wonderful Magpies) and
James Street
, who was recommended to me as a bit of an organ-whizz. He certainly is.
Heather's lyrical subjects range from adoption gone wrong (
Pendulum
) to the London riots of 2011 (
Reeves' Lament
); from the surreal tale of Ann Boleyn stranded in a futuristic African wilderness (
Desert Queen
) to the tragic tale of Joyce Vincent (
Joyce
), who was found dead in her flat in London three years after she died, her TV set still on, partly-wrapped Christmas presents at her feet.
There is one cover on the album, '
Song For Thirza
', a little-known song by Lal Waterson; a true-story about a girl who lived with the Waterson family, rescued from the workhouse back in the 1950s.
We had now worked the songs into workable forms and started recordings with
James Barlow
at Red Cloud Studios. Now I was curious to work with a producer, since pretty much everything we had done before was self-produced. I had
Dean Honer
in my sights. He is something of a Sheffield legend, part of I Monster, Eccentronic Research Council and Moonlandingz, and someone who could potentially twist our new songs about and heighten the atmospheres in his studio, 'The Bowling Green'. Luckily he agreed, and we are more than chuffed with what he has done. He also played synth on a few tracks, and viola/bowed-saw player
Aby Vulliamy
(Bill Wells/Trembling Bells/Dark Northumbria) added some further magic.
The sleeve of the album was designed by textile artist/designer
Laura Slater
. I've admired her bold print work for years now, and figured it might work well on a record sleeve.
Sorry if it sounds like blowing my/our own trumpets, but I think this is best record Big Eyes has ever made. I feel a bit like I did when we released our first record ('Big Eyes Songs', back in 2000), except then I felt that we were creating our own 'classical music', and this time, we have created our own 'pop music' (albeit pretty strange pop music). I really hope you enjoy the album as much as we have enjoyed making it, and I want to thank all those who helped us make 'Oh!', the Players, Mr Barlow, Mr Honer, Jen Halse and all at Home Assembly Music.
James Green, The Big Eyes Family Players